Did you know that
» Consumers look at native ads 53% more than normal display ads?
» Native ads have created 18% more purchase intent than display ads?
» Native ads have 10% more audience engagement than regular ads?
Really? So
What is Native Advertising?
Native advertising constitutes a set of paid ads that look and feel like the media format they appear in.
Native ads do not stand out specifically and separately as ads. Instead, they appear as part of the editorial matter found on the page. Native ads do not disrupt the flow of content in a page and hence they have more chances of being seen or read.
Why does your business need Native Ads?
Today's consumers are ad-savvy. The moment they see an ad, they skip or scoot. How the, to advertise your brand or business in front of the consumers? Only by native ads, of course.
• Native ads are able to get noticed as they appear as part of the content. So they draw more attention to your brand message.
• Native ads camouflage the marketing message and do not appear outright as "ads". Your marketing message is pushed by native ads effortlessly.
How do native ads appear?
Native ads appear as
• In-feed ads- like those that appear beside your social media feed on FB, Twitter etc
• Sponsored ads that appear on top of your Google listings and sidebar
• Recommended Content – links to sites or blogs that are prescribed below blog posts and content
Fresh Digi Hub has dealt with all kinds of native ads and has sound experience in choosing the right one for you.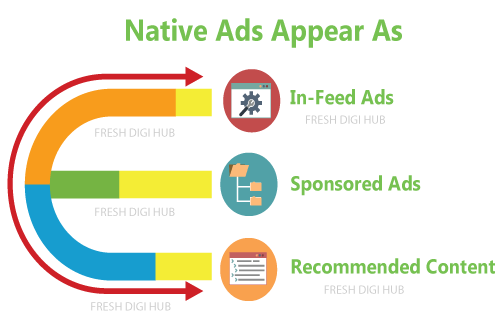 Anup kumar
Very good. A very professional team. I have been associated with this team and the results are also good. And always the response also. All the best team.
Deals of the Day
Fresh Digi Hub has an extremely talented Digital Marketing team that listens to our needs and then works hard to meet them. Every resource is a responsible and dedicated team to work. We are really enjoyed working with Fresh Digi Hub team.
Rekhas Tailors
FreshDighub is one of the best Digital marketing company in chennai. They upfront approach establishes project expectations within the limitations of website development and SEO. Quantifiable results were achieved within several months of work. Now, sales through Google search engine and social media consistently increase each month, while the website's bounce rate also steadily decreased. Thanks for the young talented team to get succeed of my business.
Native advertising Services by Fresh Digi Hub
Fresh Digi Hub is not new to native advertising. Known for its native advertising examples, Fresh Digi Hub can drive you more traffic to your website and engage audiences better to get leads.
At Fresh Digi Hub, we are experts in native advertising and use
• Sponsored content or ads -Here the brand pays the publisher to create content.
• Branded content or ads-Here the content is created by brand and published by the publisher.
• Native advertorials -Here the ad is showcased as a sponsored editorial.
Fresh Digi Hub is an expert in handling native advertising for both mobiles and desktops.
With insight and innovation in native advertising, Fresh Digi Hub have
• Improved the audience engagement multifold.
• Increased the number of leads.
• Augmented the CTR several times over.
No more doubts when it comes to native advertising for your business- let Fresh Digi Hub be your right choice to reap rich rewards!