Presence on social media is a must for both individuals and businesses. Businesses need social media marketing to reach wider audiences and create brand visibility.
Almost 2 out of every 3 people use social media. so the only way to get your brand message across to a greater audience is by social media.
– 90% of companies use social media for brand awareness.
– 88% of companies are now marketing on social media.
– 91% of social media users use mobile devices to access their accounts.
We will help your business to Engage with social media.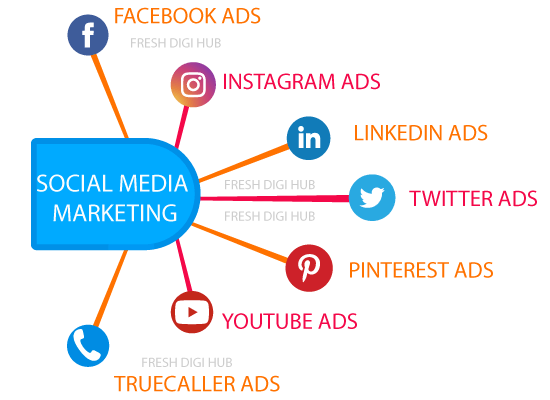 Why do you need social media marketing for your business?
Today your business survives partly on social media marketing. Almost every known business has an FB business page or an Instagram account and it is for the following reasons.
Reach out to a wider audience using social media
Boost your website traffic through social media
Your social media posts are easily shareable and can be made to go viral on social media sites
Build brand loyalty by a positive presence on social media
Interact with customers directly on social media
Gather more customer insights through social media.
Your business can grow in leaps and bounds through social media marketing only when it is handled by specialists like Fresh Digi Hub. 
We provide you the best of Social Media Marketing Services
Video advertising on YouTube works, to improve your brand awareness and gain more visible among the target audience & you only pay when people watch your video ads. Get started today.
Pinterest is a web-based bulletin board use to pin images or messages that you found a liking for, as bookmarks.  Pinterest allows you to create "boards" of your interests and pin all relevant images to each board.
With Truecaller's mobile advertising platform, brands are provided with a unique opportunity to engage millions of active users all over the world through Truecaller Ad Campaigns. Get started today.
Affiliate Advertising Is an innovative form of marketing where the advertiser pays the influencer or blogger money to promote his product or services on the blogger's site.
IdeaLaunch
24. January, 2023.
Perfect place to get support for digital marketing services in Chennai. Good service with guiding developers for all our queries and issues which is occuring on the website. They doing good on SEO optimization as well. Digihub has an knowledgeable experts in SEO. Long way to go.. good work guys 👍🏻
R A V I . M
26. May, 2022.
It was an Exellent experience for me, I went there for my Company logo & Profile work..very satisfaction services by Mr.Vinoth..Fresh Digi HUb..I refer this place to everyone looking for Digital Marketing Services..Good Day..
babu a
27. November, 2021.
Had very good experience with team Fresh Digi Hub. This was my previous experience with another digital marking company: Nowadays everyone started doing digital marketing without knowing complete process. I've visited one digital marketing team to create a new website but they took 15 days to complete the project but the result was pathetic that was totally unsecured website with worst design, Totally fed up with their service... Experience with Fresh DigiHub : I've got a chance to meet Mr.Vinoth. I've explained about my previous experience and problems with that website security issues... Later vinoth & team changed complety my website as professional secured website... Also they do branding & promotions in reasonable price...Now am generating more business with my google reviews more enquiries in my websites... Thanks Team Fresh Digi Hub
mohan ravi
27. October, 2021.
We have been very happy with our new website! It looks professional, responsive and very easy to navigate. They also provide affordable brand promotion & lead generation services as a package. Quality of work so, I would recommend Fresh Digi Hub digital marketing services to anyone looking for website design!
Joel Raj
21. March, 2021.
Fresh Digi-hub is working for us. Avalon, a laptop showroom at Pallikarnai. They are doing an excellent work for the digital marketing side of our business by understanding our requirements better. We have seen genuine long-term results in customer response through local seo and google search ad run by fresh digi-hub. We also appreciate them for giving us sophisticated reports every month to state our current stand on the google local seo. For getting genuine long-term results on digital marketing for your businesses, you must approach Fresh digi-hub.
Kannadasan Chinnachamy
20. November, 2020.
An excellent experience with your marketing assistance and worthable services. All the best for your future projects...
Nsl Mahesh
20. November, 2020.
We are highly satisfied with your techinical support and timely services. All the Best for your future projects.
Jeyachandran Textiles
19. February, 2020.
A well-talented digital marketing team that are always easy to get in touch with, 24/7 available people and are hardworking. Always comes up with creative ideas and always supportive. All the best for all your future projects.
Ambika Paranjothi
13. February, 2020.
The young and enthusiastic people with professional skills.Am glad that the outcome of my website has come out really well. Wish them goodluck for their future projects.
Social Media Marketing Services by Fresh Digi Hub
Just having a Facebook Page or an Instagram account is not going to make your business become more popular or get you more leads. It requires a lot of strategic social media optimization to grab attention and gain traffic.
At Fresh Digi Hub, we perform intuitive analysis to identify the social networking sites and platforms where your brand message might reach and result well. Then with clever positioning of your brand on the social media, we build its awareness and supplement it with optimized SEO. Social media marketing can create links to support SEO and make your site top the SERP!
 • With concrete data and social media analytics, we build custom audiences for you on FB, Instagram, LinkedIn, Twitter, Pinterest, YouTube etc.
 • Our eye-catching visuals and videos grab the attention of audiences and create leads.
 • Our crisp and catchy content registers your brand presence on social media effectively.
 • Our social media ads expand your audience base and sharpen your market penetration.
 • We refine our ads to give you low-cost solutions with high conversions.
 • We create a channel of customer engagement by interacting with users directly through social media posts.
 • Your online reputation is strengthened by our carefully crafted brand messages that we portray on social media.
 • We evolve channel-specific social media feeds and ads to exploit the advantages of that particular channel.
 • We even create a good influencer base by sharing your ads and posts on relevant social media groups. 
Seize the power of Social media marketing and scale to success with Fresh Digi Hub- the social media experts!